The weather in Zakynthos
Check the current weather and forecast before your holidays
Weather and Next days forecast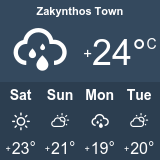 The climate in Zakynthos
Zakynthos (or Zante) island is located in the Ionian Sea, which is known for its mild Mediterranean climate. The island has hot, dry summers and mild winters, making it an ideal destination for those seeking a sunny vacation. During the summer months, which last from June to September, temperatures average around 30°C (86°F) during the day and rarely dip below 20°C (68°F) at night. The sea temperature is also warm and inviting, reaching up to 26°C (79°F) in August.
The best time to visit Zakynthos as a tourist is between May and October, with July and August being the busiest months. During this time, visitors can enjoy warm temperatures and plenty of sunshine, as well as a variety of activities such as swimming, sunbathing, and water sports. It's worth noting that August is the warmest month, with temperatures peaking at around 33°C (91°F), and can be quite crowded due to the peak tourist season. May and October offer cooler temperatures and fewer crowds, making it a good time for those who prefer a quieter vacation.
Live Web Cameras in Zakynthos
Need help?
If you need any help, please Contact Us.